KB: 0010
Weekly Cut-off
Each weekly epoch runs begins and ends at Tuesday 12am UTC. Rewards are distributed to each participant's registered Ethereum address 3 calendar days after the end of each epoch.
Payouts provide a summary of all the payments including the breakdown of each liquidity reward and allow users to check the etherscan transaction.


Minimum payout amounts for HBOT token reward payments
For HBOT token rewards, it follows a minimum threshold of 1000 for the payout. To set up your HBOT wallet and payout setting, you can go to the article: Get HBOT wallet address. Finally, for more info about HBOT tokens, feel free to send a message the #hbot-token channel on our Discord.
Minimum payout amounts for ERC20 token reward payments
In response to fluctuating gas prices, we are making the minimum threshold for ERC20 token payouts per ERC20 token payout dynamic and a function of the gas cost for an average gas token transfer. Reward payments on non-Ethereum blockchains (e.g. NEM, Algorand, and Tron) are not subject to this minimum payout amount.


Minimum payout amount = 10 x (prevailing average gas cost for ERC20 token payment)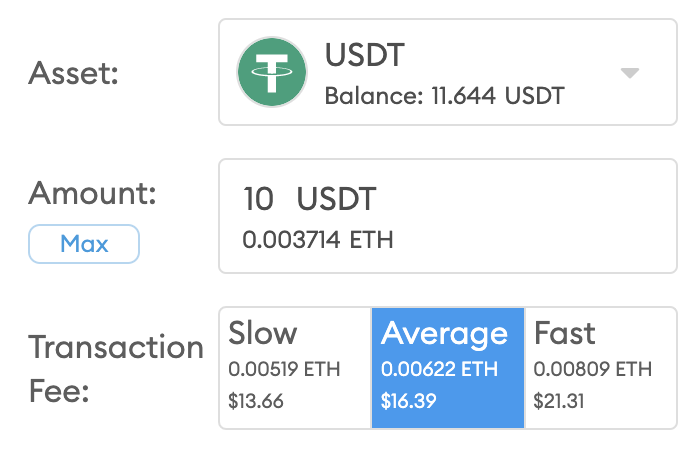 For example, at a current gas price as of writing ($16.39 for average gas token transfer, May 24, 2021), this would result in a minimum payout amount of $163.90.
Any accrued reward balance per token exceeding $163.90 would be paid out. Any cumulative amounts earned below $163.90 would continue to accrue into subsequent weeks until the cumulative amount exceeds the prevailing 10x of gas price at the time of payment.
The minimum payout amount used for payouts will be determined at approximately the time that the payouts are made.
The threshold amount for the previous payout week can be seen on the Accrued balance table on the Payouts tab.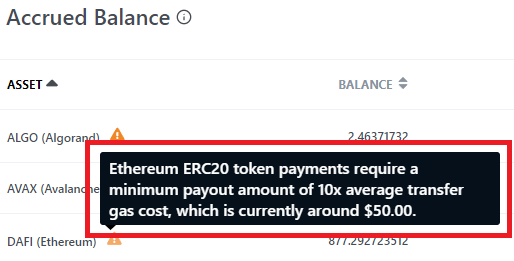 Image displayed may not reflect current threshold. Please refer to your miner profile for the accurate amount.
Note
For miners who earn less than the required payout amount for this week, their rewards will be accrued and rolled over to the next period and displayed under Accrued Balance table.
Avoiding minimum payout amount
For miners earning USDT rewards. Users can currently enter a Tron wallet to receive TRC20 USDT instead of ERC20 USDT. TRC20 USDT reward payments are not subject to any minimum payout amount; any amount of (TRC20) USDT rewards will be paid out if a user has entered a Tron wallet.
Note
For campaigns paying out USDT rewards, you can choose to receive the USDT payments on the Tron blockchain to avoid this minimum payment amount and can receive USDT directly into their exchange accounts.
Payment Verification Email
There will be weekly payout email receipts that contain links to the blockchain transaction confirmations. These transaction confirmation links can be found on the Rewards tab then payouts table on the Dashboard page.
Checking payment summary
Select and click on a weekly payout row. The weekly payout pop-up box is displayed with the individual market pair payout and tx address.
Select and click the market pair row. The corresponding tx is opened on a new page.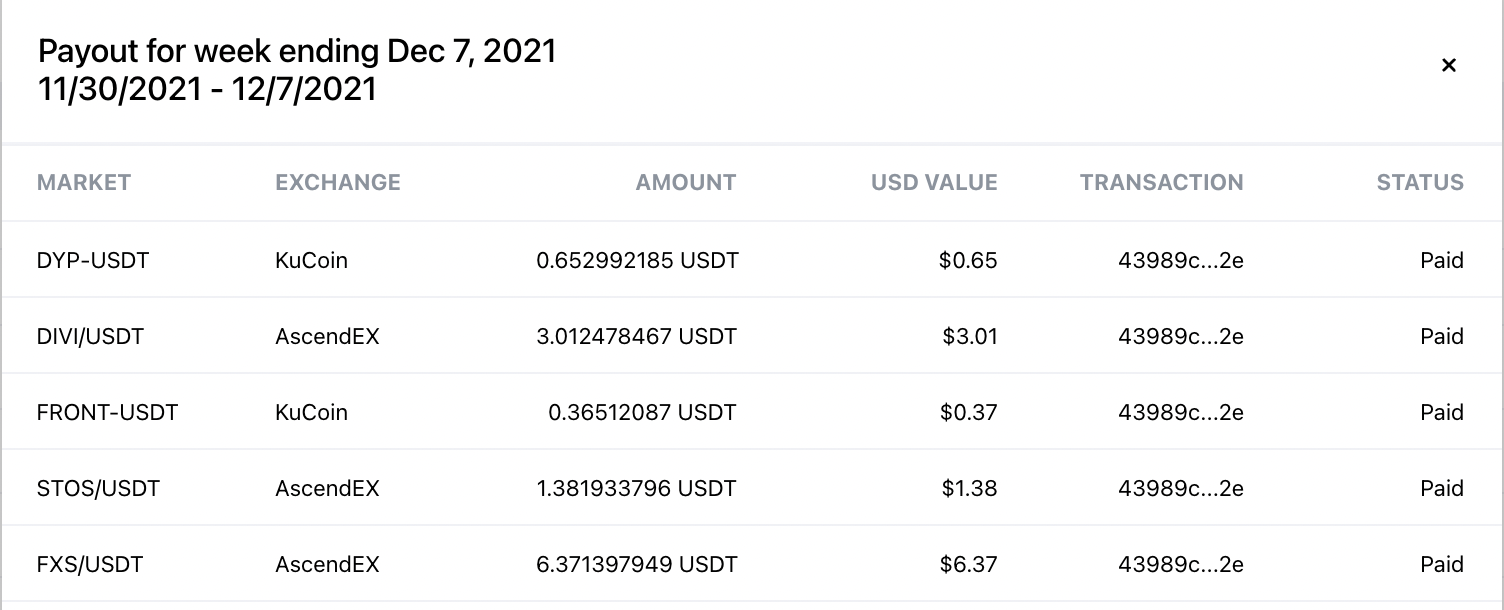 Important
For missing transaction link from MetaMask and Liquidity Mining weekly rewards, simply click the etherscan link provided on email and navigate to ERC20 Token Txns as shown on the image below, Or you may just need to add USDT token to MetaMask so you can view them. Please follow the instructions on adding Erc20 Tokens