New SYP Liquidity Mining Campaign on AscendEX!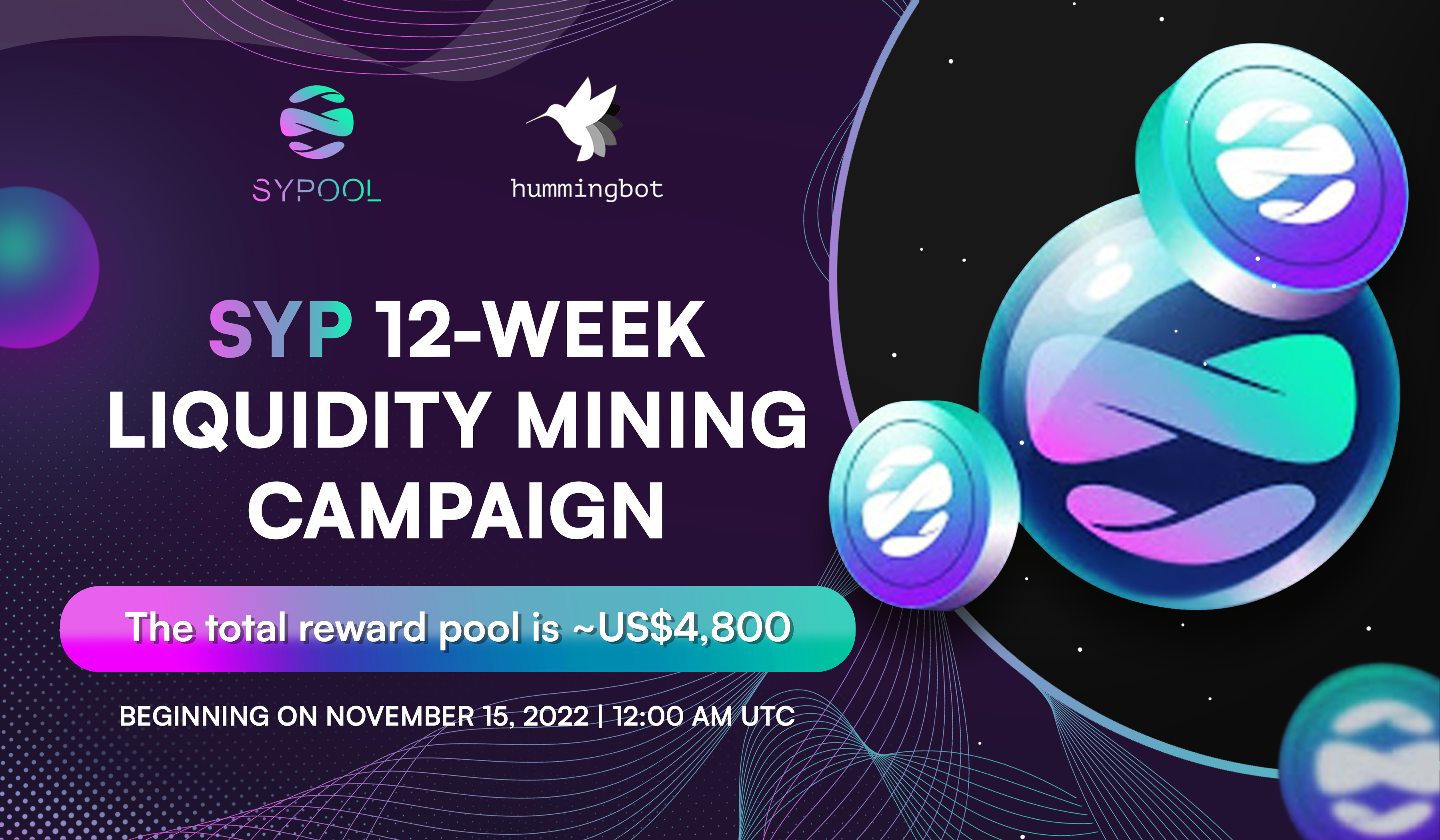 We're thrilled to announce a new 12-week liquidity mining campaign for Sypool on AscendEX. Join in NOW for your share of the ~US$4,800 total reward pool!

Campaign Terms
Start date: November 15, 2022, 12:00 AM UTC

Reward token: SYP + USDT

Total reward pool*:

~US$4,800

(SYP 158,328 + USDT 150 per week)

HBOT Bonus Rewards: 10,000 HBOT per week

Eligible token pair: SYP/USDT

Eligible orders: maker orders placed with spreads of 2.0% or lower

Exchanges:

AscendEX

(Use the Hummingbot referral link to support our project!)

About SYP
Sypool is an multi-chain asset management protocol that manages users' wealth and provides a platform for the experienced trading team to deploy their strategies.
We are trading teams ourselves and we hold the opinion that experienced traders are more rational to make trading decisions when the market fluctuates violently so we only invite experienced trading teams to deploy their strategies on Sypool.
Also, we tokenized the asset pool, making it more like a fund in the traditional market so managers can create closed-end pools according to their trading strategies.
Last but not least, we have quantitative trading strategies, using historical data and indicators to predict the trend and conduct the tradings by codes, eliminating artificial emotions as much as possible.
Learn more here
*For full terms of the campaign, please see liquidity mining campaign terms. To learn more about liquidity mining, see below:
Important notes and disclaimers
Please review the Liquidity Mining Policy for the full disclaimer, including policies related to the use of Hummingbot.
The content of this Site does not constitute investment, financial, legal, or tax advice: none of the information contained on this Site constitutes a recommendation, solicitation, or offer to buy or sell any digital assets, securities, options, or other financial instruments or other assets, or to provide any investment advice or service.
No guarantee of profit: CoinAlpha does not claim that liquidity mining and participation in liquidity mining campaigns will be profitable, however measured, for the user. Liquidity mining yields are a measure of rewards compared to assets used for liquidity mining, excluding any gains or losses incurred from the underlying trading strategy.
Eligibility requirements

: participation in liquidity mining is subject to eligibility requirements as specified in the

liquidity mining policy

.

Campaign terms subject to change

: terms may be modified over the course of the campaign. We will announce any changes, if any, on our

discord

and

reddit

; the most up to date terms will also be posted on the

liquidity mining campaign terms

and the

miners app

.