Launching Polkadex Liquidity Mining Campaign!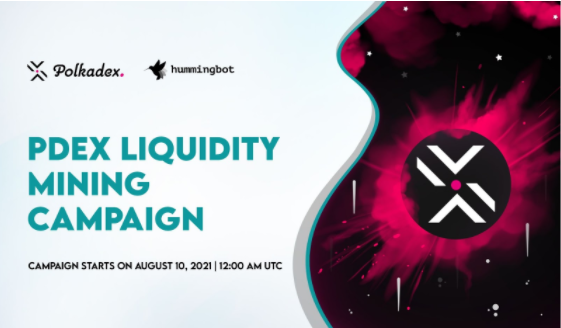 We're very excited to announce a new 12-week liquidity mining campaign for Polkadex with a USDT 15,000 reward pool! The campaign will start on August 10, 2021, 12:00 am UTC.
Campaign Terms²
Start date: August 10, 2021 12:00am UTC

Total reward pool*: USDT 15,000 in (USDT 1,250/week)

Reward token: USDT

Eligible token pairs and weekly rewards:

PDEX/USDT: USDT 650/week

PDEX/BTC: USDT 600/week

Eligible orders: maker orders placed with spreads of 2% or lower

Exchange:

KuCoin.com

(Use this Hummingbot referral link to help our project!)
About Polkadex
Polkadex Orderbook is a non-custodial peer-to-peer trading platform that merges the benefits of both centralized and decentralized exchanges in one product. Thanks to the unique tech architecture users get the best of both worlds trading on Polkadex.
To learn more about this project, check out Polkadex 101.
Polkadex is a cutting-edge decentralized exchange that overcomes such issues of traditional DEXes as front-running, arbitraging, price slippage and high transaction fees.
Additional functionality of Polkadex includes an IDO platform based fully on the blockchain (currently, the first on the market), Fungible assets for teams that want to mint their native tokens, NFTs and other features down the line. The goal of Polkadex is to bring masses to DeFi through products that can be used by novice and professional crypto traders, institutions and blockchain project teams.
Polkadex is part of the Polkadot ecosystem and the first project that uses a Substrate abstraction layer for SGX technology, called SubstraTEE, to build a DEX. The architecture of the Polkadex Orderbook is a combination of multiple technologies: blockchain, parachain, TEE, IPFS and other latest technologies available in the blockchain industry today.
Connect with us on: Twitter | Telegram | Discord | Reddit | LinkedIn
---
*For full terms of the campaign, please see liquidity mining campaign terms. To learn more about liquidity mining, see below:
---
Important notes and disclaimers
Please review the Liquidity Mining Policy for the full disclaimer, including policies related to the use of Hummingbot.
The content of this Site does not constitute investment, financial, legal, or tax advice: none of the information contained on this Site constitutes a recommendation, solicitation, or offer to buy or sell any digital assets, securities, options, or other financial instruments or other assets, or to provide any investment advice or service.
No guarantee of profit: CoinAlpha does not claim that liquidity mining and participation in liquidity mining campaigns will be profitable, however measured, for the user. Liquidity mining yields are a measure of rewards compared to assets used for liquidity mining, excluding any gains or losses incurred from the underlying trading strategy.
Eligibility requirements

: participation in liquidity mining is subject to eligibility requirements as specified in the

liquidity mining policy

.

Campaign terms subject to change

: terms may be modified over the course of the campaign. We will announce any changes, if any, on our

Discord

and

Reddit

; the most up to date terms will also be posted on the

liquidity mining campaign terms

and the

miners app

.