Launching Akash liquidity mining campaign with $50K rewards!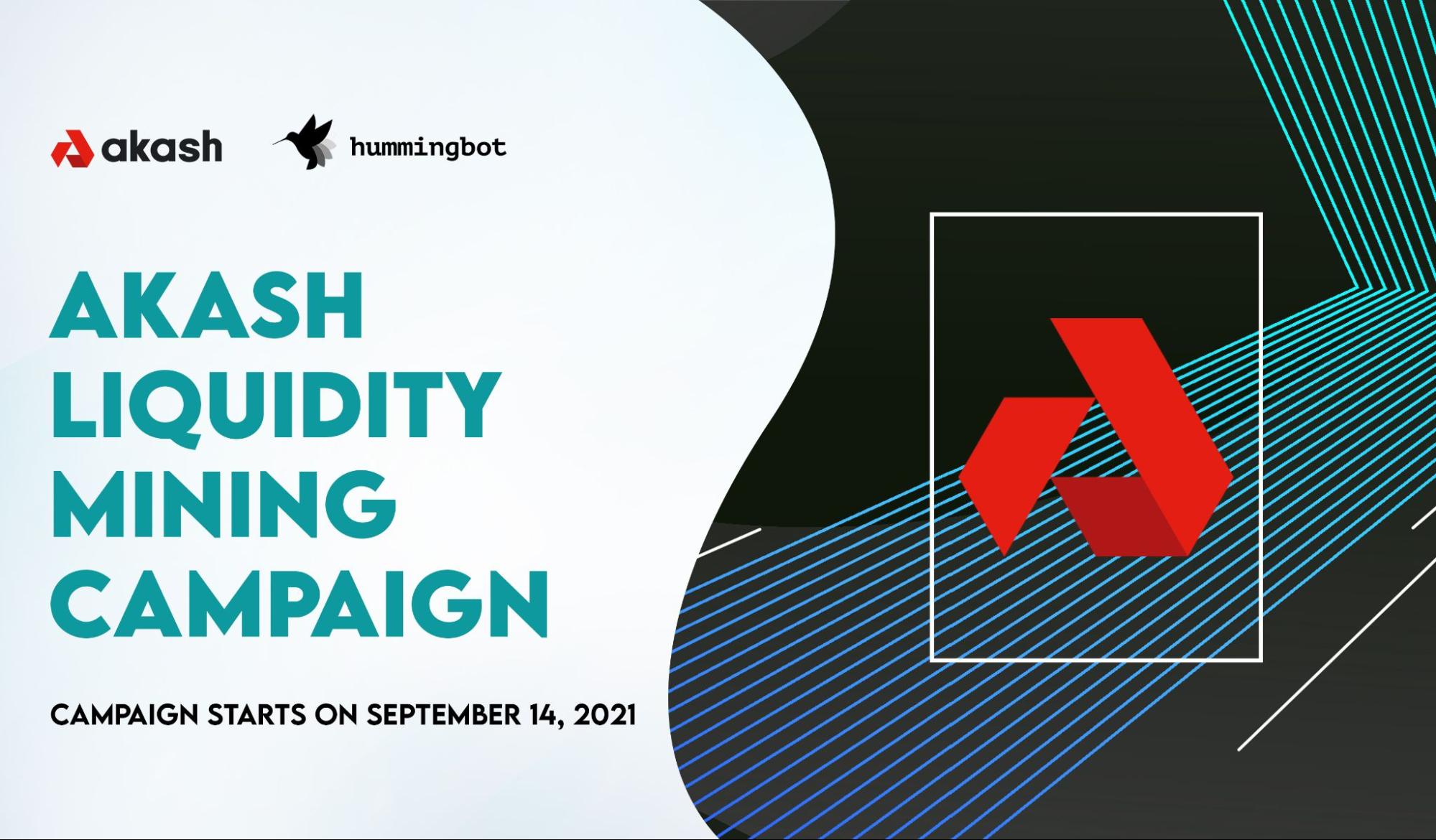 We're thrilled to announce a new 20-week liquidity mining campaign for Akash Network, a distributed peer-to-peer marketplace for cloud computing with a US$50,000 reward pool! The campaign will unlock the opportunity for our liquidity miners to earn a share of one of the biggest reward pools since launch. The campaign will start on September 14, 2021, 12:00 am UTC.
Campaign Terms²
Start date: September 14, 2021,

12:00 am UTC

Total reward pool*: US$50,000 (US$2,500/week)

Reward token: USDT

Eligible token pairs:

AKT/USDT: maker orders placed with spreads of 2% or lower

Exchange:

AscendEX
About Akash Network
Akash Network, the world's first decentralized and open-source cloud, accelerates deployment, scale, efficiency, and price performance for high-growth industries like blockchain and machine learning/AI. The "Airbnb for Cloud Compute," Akash Network provides a fast, efficient, and low-cost application deployment solution. With Akash, developers can deploy applications to cloud-hosted containers at half the cost of traditional cloud giants like Amazon Web Services, Google Cloud, and Microsoft Azure. With 85% of the underutilized cloud computing capacity in 8.4 million data centers, using open-source container technology, Akash Network allows anyone to lease cloud computing resources. For more information visit: https://akash.network/.
*For full terms of the campaign, please see liquidity mining campaign terms. To learn more about liquidity mining, see below:
Important notes and disclaimers
Please review the Liquidity Mining Policy for the full disclaimer, including policies related to the use of Hummingbot.
The content of this Site does not constitute investment, financial, legal, or tax advice: none of the information contained on this Site constitutes a recommendation, solicitation, or offer to buy or sell any digital assets, securities, options, or other financial instruments or other assets, or to provide any investment advice or service.
No guarantee of profit: CoinAlpha does not claim that liquidity mining and participation in liquidity mining campaigns will be profitable, however measured, for the user. Liquidity mining yields are a measure of rewards compared to assets used for liquidity mining, excluding any gains or losses incurred from the underlying trading strategy.
Eligibility requirements

: participation in liquidity mining is subject to eligibility requirements as specified in the

liquidity mining policy

.

Campaign terms subject to change

: terms may be modified over the course of the campaign. We will announce any changes, if any, on our

Discord

and

Reddit

; the most up to date terms will also be posted on the

liquidity mining campaign terms

and the

miners app

.