Get Avalanche wallet address
KB: 0029
Avalanche (AVAX) payments migration to C-Chain and BEP20
Please be adivsed that we have migrated AVAX payments to Avalanche's C-Chain as well as supporting BEP20 AVAX payments on Binance Smart Chain. We have discontinued support for AVAX payments on Avalanche's X-chain.
Warning
Please be advised that any new wallet or token assignments made after Wednesdays 00:00 UTC will not get picked up by the payouts processing system until the next distribution period.
To get AVAX Chain rewards, an AVAX Binance deposit address can be setup to receive the rewards directly into your Binance account. Alternatively this can also be done in other Liquidity Mining supported exchanges.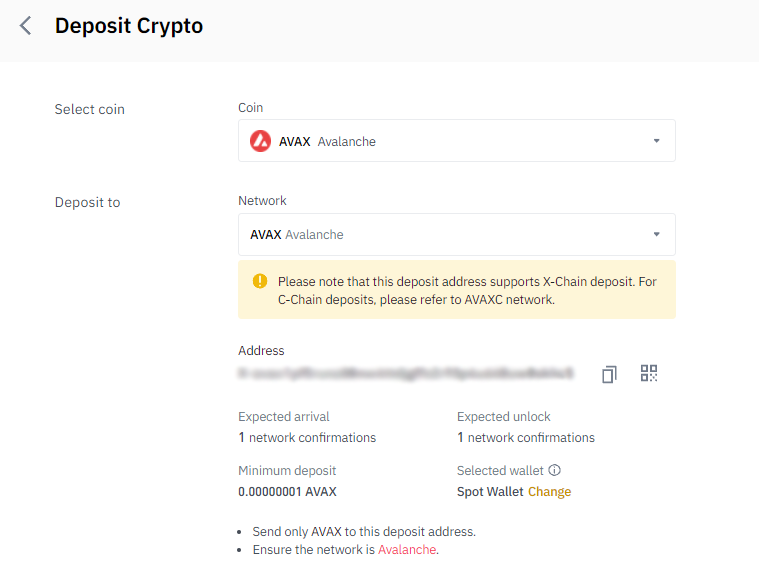 Setup AVAX Wallet
Go to AVAX Wallet.
Create a new wallet.
Generate key phrase, make sure to save the passcodes.
Click access wallet, then paste the missing codes.
Create wallet under C-Chain
In the Hummingbot Miners app, click Settings then choose Wallets. Under Wallets, you can see Avalanche (highlighted in the gray background) then click Connect and copy your wallet address.
You will receive an email confirming you have successfully connected your wallet to Hummingbot Miner.
Warning
Do not open your AVAX wallet on this website: https://www/ (dot) avalanche-wallet (dot) com - the wallet address created is fake.
Do not use the same 12-words/24-words mnemonic/ recovery code for every wallet