AscendEX Campaign Updates!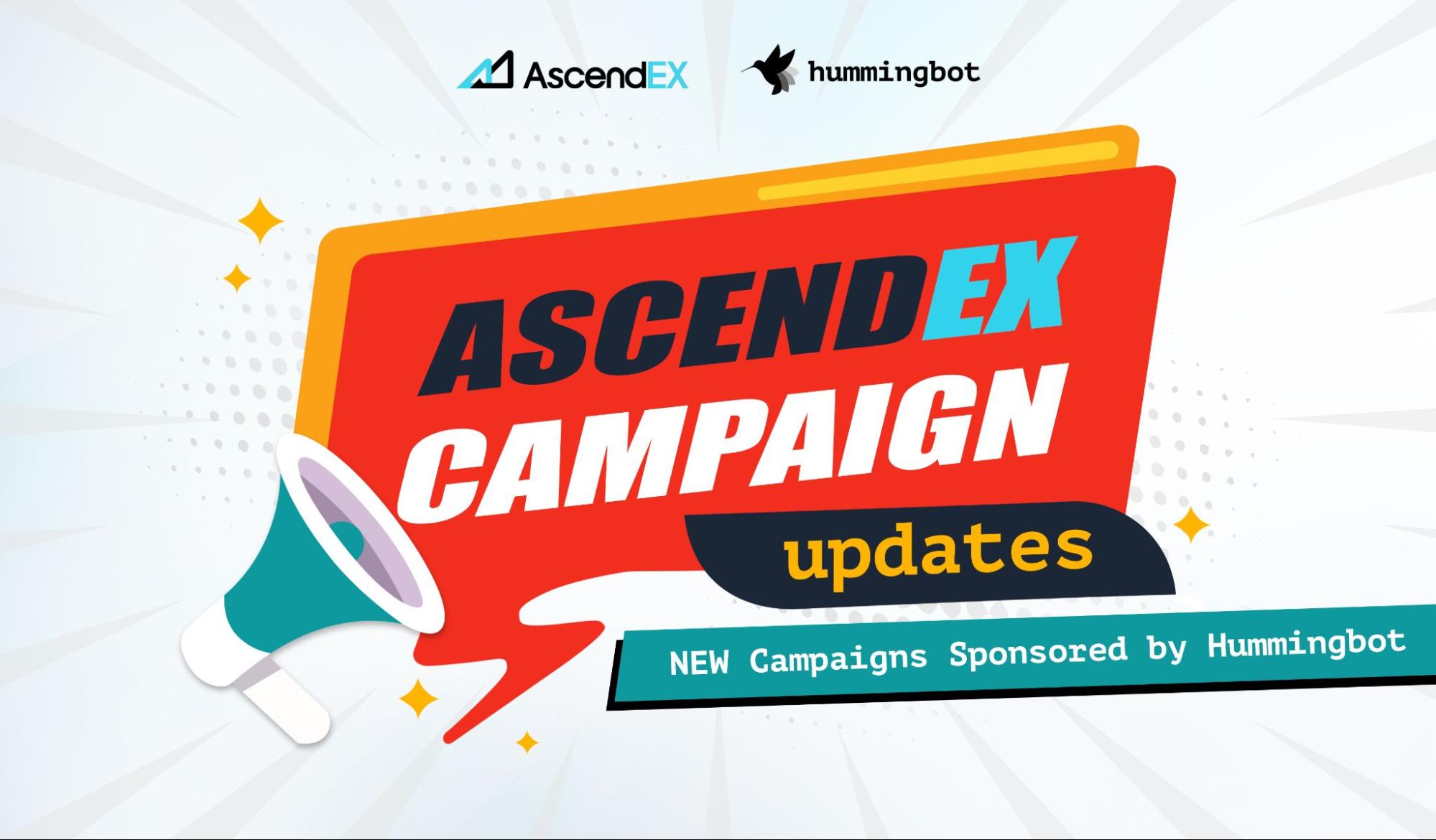 Since the launch of liquidity mining (Beta) on AscendEX, 317 individual miners have contributed $131 million total filled order volume and consistently contributed $30K+ average open order volume (i.e.liquidity) per campaign with consistently less than 0.6% bid/ask spread.
The entire Hummingbot community thanks AscendEX for their sponsorship of the amazing $175K kickoff campaigns! While those AscendEX sponsored campaigns are ending today, Hummingbot is keeping eight of the most popular trading pairs active by sponsoring a 6-week campaign with a $60K total reward pool. The pairs we are going to sponsor and the campaign terms are shown below:
Start date: August 31, 2021, 12:00 AM UTC
Eligible token pairs:
ASD/USDT
DOGE/USDT
OMI/USDT
SOL/USDT
XEM/USDT
EXRD/USDT
MATIC/USDT
FIL/USDT
Weekly reward per pair: 1,250 USDT
Eligible orders: maker orders placed with spreads of 1% or lower
Please set up your bots accordingly. In addition, don't miss out on the NEW Autonio (NIOX) campaign, the soon-to-be-launched Kava Swap campaign on AscendEX, and other AscendEX campaigns such as CLOUT, PORT, DAFI, and DIVI. These are super fun and rewarding!
About AscendEx
AscendEX (formerly BitMax) is a global cryptocurrency financial platform with a comprehensive product suite including spot, margin, and futures trading, wallet services, and staking support for over 150 blockchain projects such as bitcoin, ether, and ripple. Launched in 2018, AscendEX services over 1 million retail and institutional clients globally with a highly liquid trading platform and secure custody solutions.
AscendEX has emerged as a leading platform by ROI on its "initial exchange offerings" by supporting some of the industry's most innovative projects from the DeFi ecosystem such as Thorchain, xDai Stake, and Serum. AscendEX users receive exclusive access to token airdrops and the ability to purchase tokens at the earliest possible stage.
To learn more about how AscendEX is leveraging best practices from both Wall Street and the cryptocurrency ecosystem to bring the best altcoins to its users, please visit www.Ascendex.com.
*For full terms of the campaign, please see liquidity mining campaign terms.

To learn more about liquidity mining, see below:
----------------------------------------------------
Important notes and disclaimers
Please review the Liquidity Mining Policy for the full disclaimer, including policies related to the use of Hummingbot.
The content of this Site does not constitute investment, financial, legal, or tax advice: none of the information contained on this Site constitutes a recommendation, solicitation, or offer to buy or sell any digital assets, securities, options, or other financial instruments or other assets, or to provide any investment advice or service.
No guarantee of profit: CoinAlpha does not claim that liquidity mining and participation in liquidity mining campaigns will be profitable, however measured, for the user. Liquidity mining yields are a measure of rewards compared to assets used for liquidity mining, excluding any gains or losses incurred from the underlying trading strategy.
Eligibility requirements: participation in liquidity mining is subject to eligibility requirements as specified in the liquidity mining policy.
Campaign terms subject to change: terms may be modified over the course of the campaign. We will announce any changes, if any, on our Discord and Reddit; the most up to date terms will also be posted on the liquidity mining campaign terms and the miners app.
---
🏛 Token issuers: contact the team at partnerships@hummingbot.io to learn more about running liquidity mining campaigns on Kucoin, Binance.com, or to suggest the next exchange for us to integrate with!
🏦 Exchanges: contact partnerships@hummingbot.io if you'd like to bring Hummingbot and liquidity mining to your exchange!