6-month extension for the iExec liquidity mining campaign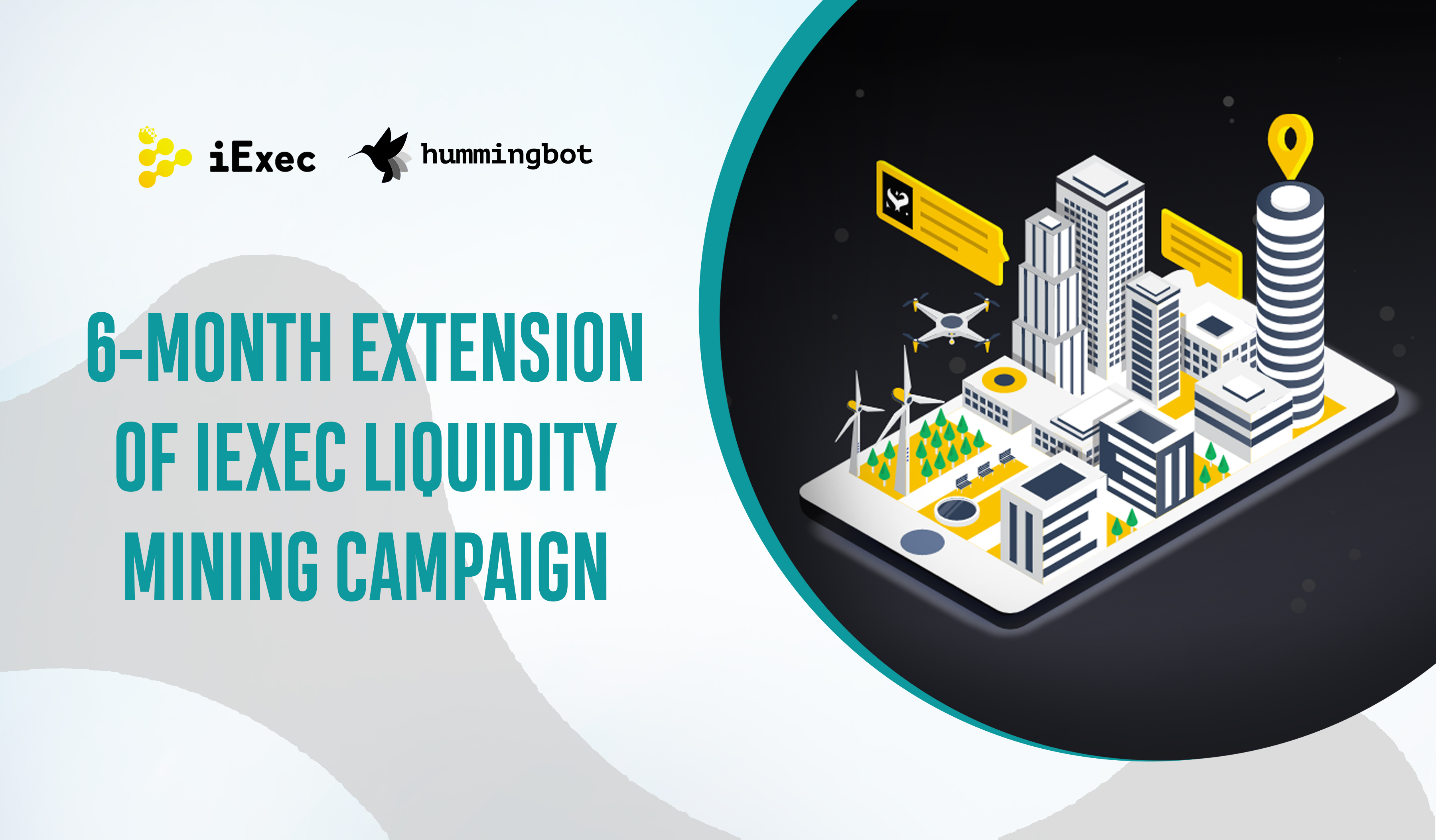 Since we launched liquidity mining for iExec, one of our original launch partners, last March, iExec has been able to introduce the project to a broader trader community and attract a large and diverse group of individual liquidity miners to participate in promoting liquidity for its RLC token. In total, 992 distinct individual miners (over 34% of the entire Hummingbot Miner community) have participated in the campaign and earned rewards as of July 15th, 2021. They accounted for as much as 25% of total RLC trading volume on Binance, and as much as 84% of the trading volume for the RLC/ETH trading pair.
Both the Hummingbot and iExec communities feel pleased about the campaign performance, which demonstrates liquidity mining's effectiveness in engaging communities (iExec's, Hummingbot's, and the broader trading community) to provide liquidity and improve the tradability of tokens. We appreciate iExec's support of our mission to decentralize market making and we are thrilled to announce that iExec has decided to extend its campaign. RLC is extending its iExec liquidity mining campaign for another 6 months with a total reward pool of RLC 9,300 (currently approximately $25k)! We hope you will keep participating in the campaign and encourage new users to join and participate, to support the project and the Hummingbot Miner platform!
Summary stats of the iExec liquidity mining campaign
During the past campaign period, we have seen consistent growth in the number of distinct miners and open order volume committed to promoting RLC token order book depth.
Below are some of the key metrics of the past campaign period:
As of July 15th, 2021, 992 distinct users participated and earned rewards

Liquidity miners have accounted for as much as 25% of total daily RLC trading volume on Binance, and as much as 84% of the trading volume for the RLC/ETH trading pair

As of July 15th, 2021, liquidity miners accounted for US$271.6mm of filled order volume, recently averaging around US11.3mm of weekly volume from a weekly reward of RLC 870 (approximately US$2.5k)

Open order book volume created by miners peaked at US$51.1K for the RLC/BTC pair, US$43.2K for the RLC/ETH pair and US$84K for the RLC/USDT pair
Detailed statistics (as of July 15th, 2021) are presented below:
We have consistently seen new miners participating in the iExec campaign, with a total of 992 unique users participating to date.
Hummingbot miners are currently accounting for around $113.2k of consistent, average order book volume at spreads of less than 2% or tighter. A diversified group of market makers greatly reduces the risk of liquidity drying up even during volatile market periods. In fact, the platform is designed to increase rewards for users who market make during volatile periods, since market makers continue to make orders at these times, they earn higher rewards if other market makers stop creating orders, i.e. "market maker surge pricing".
Weighted average miners spreads have consistently and generally been tighter than 1%. The lower lines are bid spreads, higher lines are ask spreads:
While the campaign does not reward for filled order volumes, the liquidity and order book depth provided by Hummingbot miners at attractive levels has resulted in $271.6mm of traded volume since the start of the campaign.
Participation in the RLC campaign has also been spread across a large number of users. As previously mentioned, a total of 992 miners have participated in and have earned rewards for RLC's campaign. Only 3 users have earned more than 5% of the total reward pool, and the top 10 users account for more than half (57.4%) of total rewards earned to date. As a result, performance of the Hummingbot Miner campaigns are less dependent on an individual market maker, and there are opportunities even for smaller traders to participate and earn rewards.
About iExec
iExec (RLC) claims to have developed the first decentralized marketplace for cloud computing resources. Blockchain technology is used to organize a market network where users can monetize their computing power, applications, and datasets. By providing on-demand access to cloud computing resources, iExec is reportedly able to support compute-intensive applications in fields such as AI, big data, healthcare, rendering, or FinTech. iExec's RLC token has been listed on Binance, Bittrex, etc.
---
*For full terms of the campaign, please see liquidity mining campaign terms.
To learn more about liquidity mining, see below:
---
Important notes and disclaimers
Please review the Liquidity Mining Policy for the full disclaimer, including policies related to the use of Hummingbot.
The content of this Site does not constitute investment, financial, legal, or tax advice: none of the information contained on this Site constitutes a recommendation, solicitation, or offer to buy or sell any digital assets, securities, options, or other financial instruments or other assets, or to provide any investment advice or service.
No guarantee of profit: CoinAlpha does not claim that liquidity mining and participation in liquidity mining campaigns will be profitable, however measured, for the user. Liquidity mining yields are a measure of rewards compared to assets used for liquidity mining, excluding any gains or losses incurred from the underlying trading strategy.
1. Eligibility requirements: participation in liquidity mining is subject to eligibility requirements as specified in the liquidity mining policy.
2. Campaign terms subject to change: terms may be modified over the course of the campaign. We will announce any changes, if any, on our Discord and Reddit; the most up to date terms will also be posted on the liquidity mining campaign terms and the miners app.