3-month extension for the HiFi Liquidity Mining Campaign!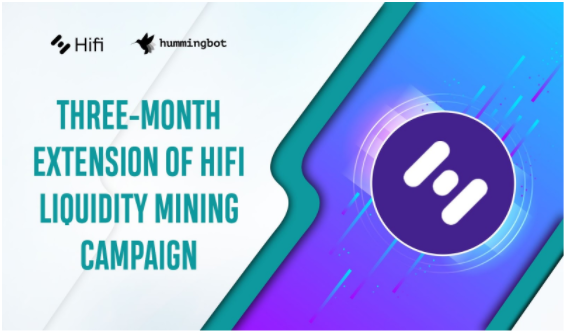 Since we launched liquidity mining for Hifi last June, we have seen great participation and consistent growth in trading volume. To date, 759 distinct individual miners in total have joined this campaign. At times, Hummingbot miners accounted for as much as 62% of total MFT trading volume on Binance, and also contributed to US$386 million filled order volume. Both the Hummingbot and Hifi teams are quite pleased with the campaign's performance and community engagement and the many meaningful milestones achieved by our communities!
Hifi has decided to extend its liquidity mining campaign for another 3 months with the same terms of the previous campaign period! We hope you will keep participating in the campaign and we encourage new users to join and earn rewards!


Summary stats of the Hifi liquidity mining campaign
Below are some of the key metrics of the past campaign period as of August 3rd, 2021:
759 distinct users participated and earned rewards

Liquidity miners accounted for US$386 mm of filled order volume

Open order book volume created by miners peaked at US$103K for the MFT/BNB pair, US$54K for the MFT/ETH pair and US$73K for the MFT/USDT pair
Detailed statistics as of August 3rd, 2021 are presented below:
We have witnessed consistent growth in the number of miners participating in the Hifi campaign.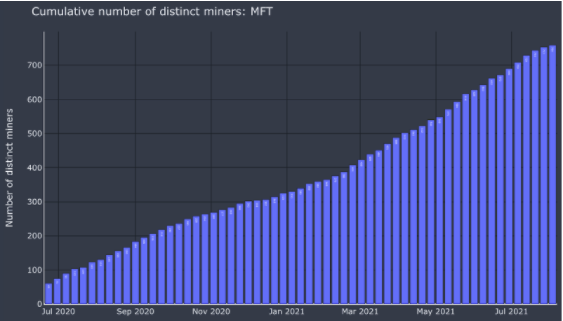 Hummingbot miners are currently accounting for around $70k of consistent, average order book volume at spreads of around 1% or tighter.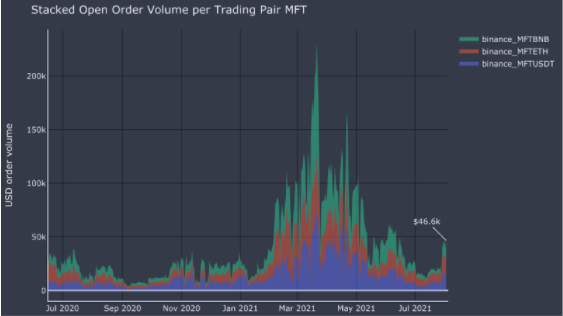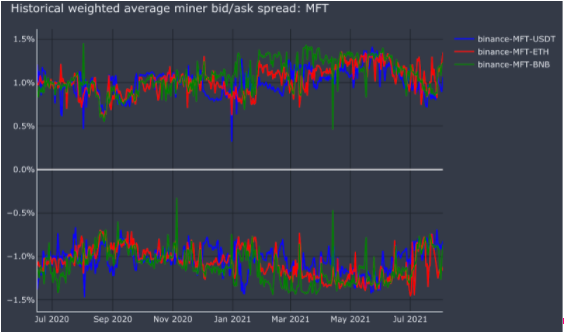 About Hifi
Hifi's Lending Protocol allows anyone to borrow against their crypto by leveraging collateral assets approved by Hifi Governance. Hifi uses a bond-like instrument, representing an on-chain obligation that settles on a specific future date. Buying and selling the tokenized debt enables fixed-rate lending and borrowing — something much needed in decentralized finance today. Hifi Governance is the community organized process of managing the various aspects of the Lending Protocol. Unique to the Hifi Lending Protocol is the liquidation mechanism, rehypothecation of collateral accounts, and an incentivization layer powered by staking the Hifi Token (MFT). The system avoids unnecessary sell pressure during liquidations. Together, the strategies for rehypothecation, liquidation, and settlement enable lower collateral requirements and allow for a more efficient increase in leveraged exposure to base assets.
Since late 2017, Hifi has had one of the largest communities supporting its mission of economic freedom and financial access. Hifi is backed by the top names in VC and Crypto, including ArringtonXRP, NEO Global Capital, FBG, Shapeshift's Erik Voorhees, ICON's Min Kim, Ethereum's Gavin Wood, Zilliqa's Xinshu Dong, and many many more.
---
*For full terms of the campaign, please see liquidity mining campaign terms. To learn more about liquidity mining, see below:
---
Important notes and disclaimers
Please review the Liquidity Mining Policy for the full disclaimer, including policies related to the use of Hummingbot.
The content of this Site does not constitute investment, financial, legal, or tax advice: none of the information contained on this Site constitutes a recommendation, solicitation, or offer to buy or sell any digital assets, securities, options, or other financial instruments or other assets, or to provide any investment advice or service.
No guarantee of profit: CoinAlpha does not claim that liquidity mining and participation in liquidity mining campaigns will be profitable, however measured, for the user. Liquidity mining yields are a measure of rewards compared to assets used for liquidity mining, excluding any gains or losses incurred from the underlying trading strategy.
Eligibility requirements

: participation in liquidity mining is subject to eligibility requirements as specified in the

liquidity mining policy

.

Campaign terms subject to change

: terms may be modified over the course of the campaign. We will announce any changes, if any, on our

Discord

and

Reddit

; the most up to date terms will also be posted on the

liquidity mining campaign terms

and the

miners app

.