12-week extension for the DIVI liquidity mining campaign!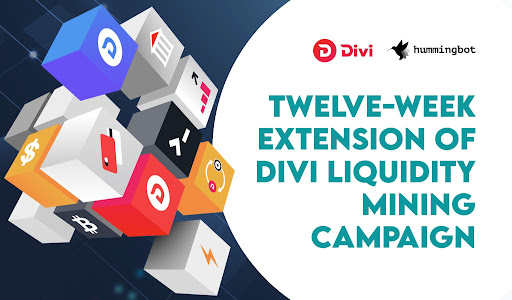 Since we launched liquidity mining for DIVI, we have seen 262 distinct individual miners participate in the campaign, providing liquidity to the DIVI token. Our miners consistently accounted for 70% of the daily trading volume on average on KuCoin.
DIVI will be bringing the campaign to AscendEX and extending its liquidity mining campaign for another 12 weeks! The updated campaign terms are shown as below:
Trading Pair: DIVI/USDT

Weekly Rewards:
2,000 USDT/wk on KuCoin
1,250 USDT/wk on AscendEX
Reward token: USDT
Maximum Spread: 2%
Summary stats of the DIVI liquidity mining campaign
Below are some of the key metrics as of August 23rd, 2021:
262 distinct users participated and earned rewards

Liquidity miners accounted for approximately US$5.6mm of filled order volume

Open order book volume created by miners peaked at US$42K
Detailed statistics as of August 23rd, 2021 are presented below:
We have witnessed consistent growth in the number of miners participating in the DIVI campaign, with a total of 262 unique users participating to date.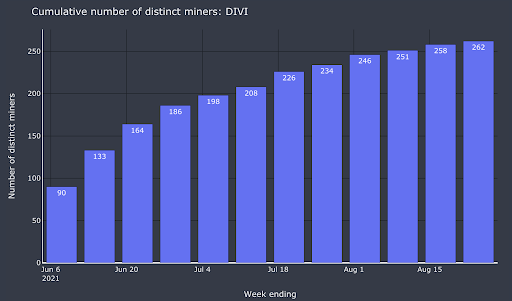 Hummingbot miners are currently accounting for around $20-30k of consistent, average order book volume at spreads of less than 2% or tighter. This campaign has successfully garnered the interest of a diversified group of liquidity miners, which greatly increases the order book depth and price discovery of this token.
The weighted average miners spreads have consistently and generally been tighter than 1%. The lower lines are bid spreads, higher lines are ask spreads.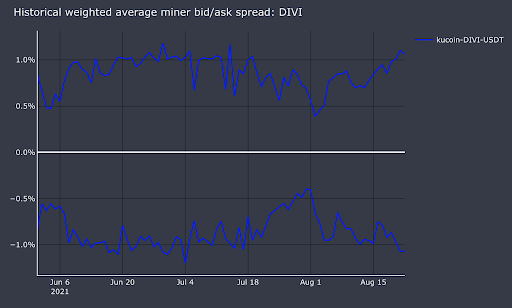 While the campaign does not reward for filled order volumes, the order book depth created by Hummingbot miners has generated $5.6 million of total traded volume since the start of the campaign.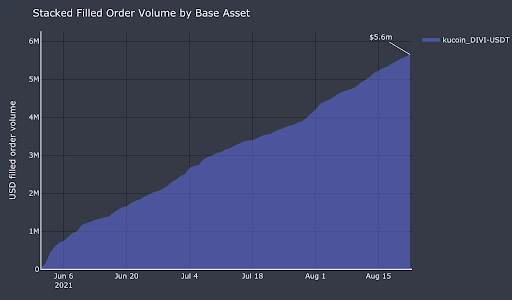 About DIVI
The Divi Project has a simple mission. To make crypto easy. The team is focused on solving the biggest issues preventing mainstream adoption of cryptocurrencies - usability and accessibility, while still remaining both decentralized and non-custodial.
As a proof of stake blockchain, coin holders can earn rewards for securing the network through staking and masternodes. The team developed the first and only genuinely one-click masternode software that enables users of any skill level to begin earning rewards in an instance.
Having launched its revolutionary mobile wallet in the US in April this year, it will be imminently rolled out to the rest of the world. Multicoin, the wallet has a humanized protocol allowing users to send to usernames and email addresses. In addition, users can set up a mobile masternode and earn in moments.
The roadmap for the Divi Wallet is packed full of features which will be released in the year ahead including their revolutionary staking vaults that allow users to stake directly from the app without running a machine 24/7, a fiat on/off-ramp, the ability to swap crypto to crypto and crypto to fiat, bank accounts with ACH and wire transfers, and a Divi debit card to spend.
Divi's goal to consolidate the fragmented value chain in digital finance and allow anyone in the world with a mobile phone to be able to own and spend digital assets efficiently is firmly in sight.
The project owns an operating share in RiDivi, providing remittance services to a global customer base. When integrated, users will be able to utilize IBANS, and send fiat globally, all through the Divi Wallet.
From the goal of accessibility comes the strategy of Divi everywhere. Divi's various sub-teams, partners, and communities are building a variety of use cases such as gaming, a digital nomad space, media/entertainment, merchant solutions, and DeFi applications as it leads the way into the coming age of cryptocurrency mass adoption.
Everything Divi does is in service of its vision; the delivery of a new paradigm for financial services. One that is truly decentralized, accessible to all, and works for everyone. The result is software and services that make buying, selling, and using cryptocurrencies faster, more secure, and accessible to people at all levels of technical expertise.
*For full terms of the campaign, please see liquidity mining campaign terms.

To learn more about liquidity mining, see below:
Important notes and disclaimers

Please review the Liquidity Mining Policy for the full disclaimer, including policies related to the use of Hummingbot.

The content of this Site does not constitute investment, financial, legal, or tax advice: none of the information contained on this Site constitutes a recommendation, solicitation, or offers to buy or sell any digital assets, securities, options, or other financial instruments or other assets, or to provide any investment advice or service.
No guarantee of profit: CoinAlpha does not claim that liquidity mining and participation in liquidity mining campaigns will be profitable, however, measured, for the user. Liquidity mining yields are a measure of rewards compared to assets used for liquidity mining, excluding any gains or losses incurred from the underlying trading strategy.

Eligibility requirements

: participation in liquidity mining is subject to eligibility requirements as specified in the

liquidity mining policy

.

Campaign terms subject to change

: terms may be modified over the course of the campaign. We will announce any changes, if any, on our

Discord

and

Reddit

; the most up-to-date terms will also be posted on the

liquidity mining campaign terms

and the

miners app

.